Today, do-it-yourself projects are highly popular. With resources like Pinterest at your fingertips, it's easy to search for creative ways to build something new or repurpose something old to give it new life and add color and interest to your home. A love for DIY work is what led mother-daughter team Kathy Campbell and Annette Wicker into a search for a new paint. And that search eventually led them to found the successful local business in Catoosa, Okla., known as The Plaster Paint Company.
"We've flipped houses and done it all," says Wicker, talking about the many projects she has done with her mother, and with the support of her father and husband, Harold. "If we don't know how to do something, we're going to find out."
In a nutshell, that's how the Plaster Paint brand was born. Wicker and Campbell enjoyed doing makeovers on furniture, yet they were not satisfied with the chalk paints on the market. These paints are useful for creating a chalky, aged look that can be easily distressed and textured to appear vintage. But the brands the mother-daughter team tried out were pricy, yet didn't produce the quality they were looking for.
After searching out, testing and rejecting many brands, Campbell suggested they make their own paint. After all, as do-it-yourselfers, why wouldn't they?
Wicker remembers wondering how they would pull that off. But after much research and experimentation, the two women developed a paint based on a recipe for plaster, their first homemade paint and the source of their brand name. "We started in my parents' garage, all of us working full time jobs and then rushing home in the evening to master the recipe for our paint," says Wicker.
After a while, they realized there was a market for selling their paint to other DIY-ers. And so, the business was born.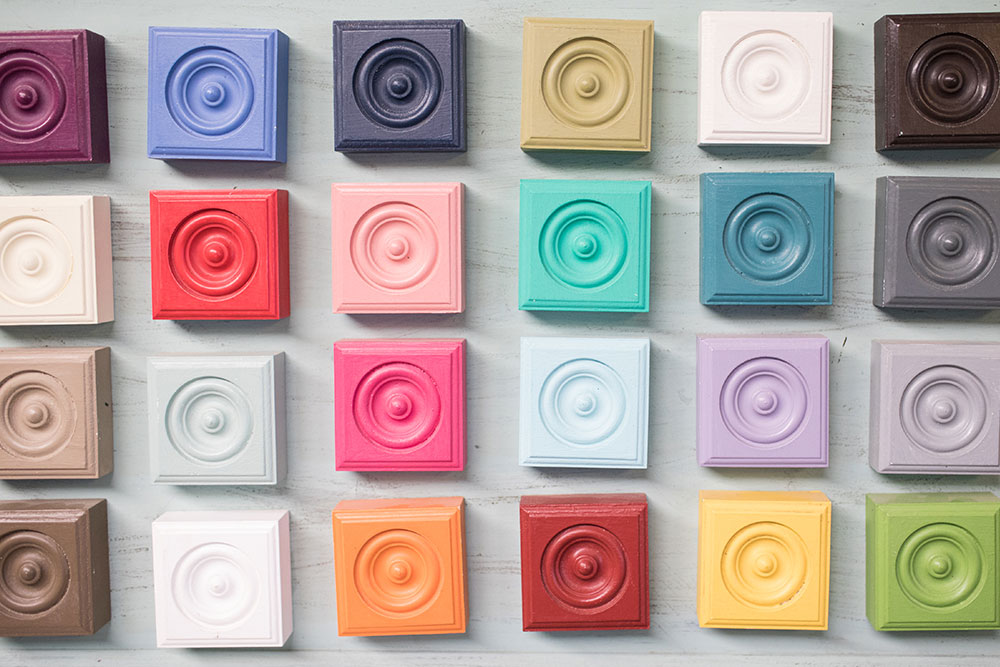 The Plaster Paint Company has its main location in Catoosa, and it's family-owned and operated. There are also well over 200 locations — both resellers and distributors — nationwide and in Canada selling the Plaster Paint brand. The company's growth has been rapid since it first launched in 2012.
It's not hard to see why the brand has been successful. It's affordable and it's effective, two key components to a product that sells well. "We wanted to make an affordable alternative to the competitive paints on the market," says Wicker. "We wanted to make it to where any person in any household can afford to buy this paint and not have to go out and use harsh chemicals to redo furniture."
If you've ever wondered what it is like to own a small business, Campbell and Wicker can testify that it is hard but satisfying work. It takes time to test products and refine them until they are just right. "We gave away a lot of paint in the first two years," Wicker says. "We do all the work in-house. Most everything we purchase is local, and we do all the startup stuff in-house."
Fans of the Plaster Paint brand praise it for its ease of use and its consistency in covering just about any surface you might apply it to. The paints are available in over 40 colors. And the Plaster Paint Company can also supply you with paintbrushes, cleaners, paste wax, aging wax, glosses and other related products to help make your DIY project simple and straightforward.
If you have never done a DIY project before that involves painting, don't worry. Campbell and Wicker offer how-to videos for those who need some extra guidance in how to repurpose their furniture, as well as specialty classes for those who want to learn DIY techniques and proper use of the paint to get the effects they want.
The Plaster Paint Company also gives to charity as a regular part of their business approach. All profits from their Sweet Pea line of products, a custom pink color created by one of their vendors, Lynn Bennett, go to support The Care Project, a cancer charity. Bennett is a survivor of breast cancer.
Campbell and Wicker also encourage those who attend their free classes to bring canned food and gently used clothing items for donation. "We like to give to the DaySpring Villa," says Wicker, which helps victims of sex trafficking and domestic violence. At times, they also donate to organizations like the John 3:16 Mission.
The mother-daughter team's latest endeavor is the Wild Heart Marketplace and Café. Yes, believe it or not, they're making time to sell café items as well as paint products. "What we say is, never let us get bored," says Wicker. So, naturally, they started a restaurant.
"We have always wanted to do a café," she says. Wild Heart offers breakfast, lunch, brunch and dinner, including homemade soups every day, subs, salads, burgers, and other delectable homemade recipes. Some of their customers come in every day, says Wicker, because they love the food so much. The décor is vintage and eclectic, and you can eat there before or after a foray into the paint supplies for that DIY project you're working on.
All in all, it's a fun place to eat and shop, and you won't regret the trip along Route 66 to visit.